Germany weighs deportations after sexual assaults
Views: 3278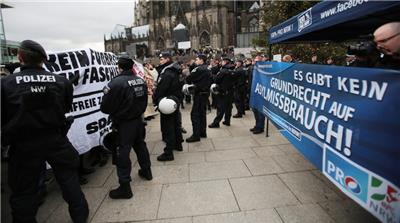 Germany must examine whether it has done enough to deport foreigners who commit crimes, Chancellor Angela Merkel has said, in response to a series of New Year's Eve sexual assaults in Cologne.
Police say witnesses have described the perpetrators as being of "Arab or North African origin", but there is little solid information so far on who committed the assaults.
Still, Merkel said on Thursday in Berlin, "we must examine again and again whether we have already done what is necessary in terms of ... deportations from Germany in order to send clear signals to those who are not prepared to abide by our legal order".
---
READ MORE: Merkel says Germany will reduce refugee arrivals
---
Heiko Maas, Germany's justice minister,said in an interview with the Funke newspaper group that "deportations would certainly be conceivable", adding that "that penalty is in principle absolutely possible for sexual offences".
Speculation over the nationalities of the perpetrators has been seized on by some opponents of Germany's welcoming stance towards those fleeing conflict after the country registered nearly 1.1 million asylum-seekers last year.
Officials have cautioned thatit is important not to cast suspicion on refugees in general.
Muslims join condemnation
Merkel said the New Year's assaults were "repugnant criminal acts that ... Germany will not accept" and that legal changes or extra police presence may be examined.
"The feeling women had in this case of being at people's mercy, without any protection, is intolerable for me personally as well," she said. "And so it is important for everything that happened there to be put on the table."
Members of Cologne's Muslim community have condemned the assaults, while some are concerned that pointing blame at Muslims in general is unfair since details of the perpetrators are unclear.
"It's really sad what happened," said one woman, who only gave her last name, Ozap.
---
READ MORE: Germany to refugees: Leaving Afghanistan? Think again
---
She rejected the suggestion by some German politicians that Muslim attitudes towards women might have played a role in the attacks.
"Everywhere it says that this has something to do with Muslims. What I read and learned in the Koran is completely different," she said.
"I've been here for 30 years myself and I've never seen anything like this."
Hassan Akdogdu, a 34-year-old businessman and a second-generation Turkish immigrant, agreed. He accused police of not doing enough to prevent the attacks.

"It's nothing to do with religion," he said. "Lack of respect for women isn't a religious problem. As a Muslim I can say that."
New Year's Eve assaults
Police said on Thursday that they have now received 121 criminal complaints alleging sexual assault and robbery during the New Year's Eve festivities. That includes two accounts of rape.

They said investigators working with video footage have identified 16 young men - largely of North African origin - who may be suspects and are working to determine whether they committed any crimes. Authorities do not yet have names for most of the men.
Thomas de Maiziere, German interior minister,said on Wednesday that "anyone who commits serious crimes, whatever status he is in, must reckon with being deported from Germany".
---
READ MORE: Much ado about Muslim refugees
---
"If it turns out that refugees were the perpetrators, then they forfeited their right to be guests," Andreas Scheuer, general secretary of the conservative Christian Social Union - the smallest party in Chancellor Angela Merkel's coalition government - was quoted as telling the daily Bild.

Police have faced criticism for their response, and German media reported on Thursday on an internal police report that suggested officers were overwhelmed by the situation on New Year's Eve.

Wolfgang Albers, Cologne's police chief,said that he is reporting to the regional government on what happened, and will not publicly give further details before a meeting on Monday of the state legislature's home affairs committee.
Waxaa soo diyaariye warkaani Wariye C.qaadir hassan jokar