This is what it means to be a refugee in Kenya
Saturday February 03, 2018 - 17:39:24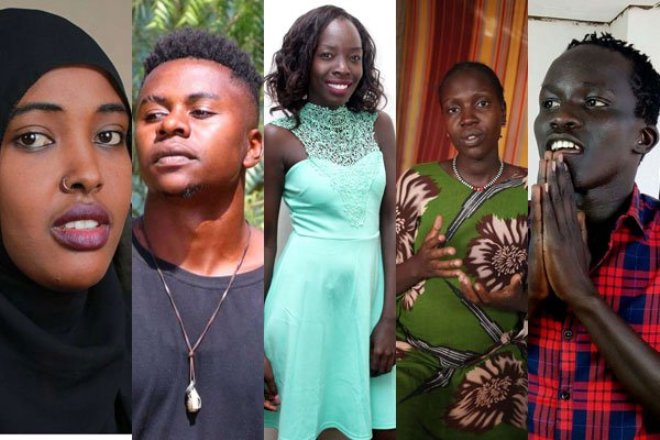 This is what it means to be a refugee in Kenya
For many years, Kenya has been considered a haven of peace for its relative stability. As a result, this makes it an attractive host to those fleeing their countries due to political volatility, which tends to fuel violence.

For the last three decades, Kenya has welcomed and hosted refugees and asylum seekers from Somalia, Uganda, Ethiopia, Rwanda and South Sudan.

Five refugees living in Kenya talk about what pushed them out of their countries and put into perspective what being a refugee really means. They also share their future prospects and reveal what they think about Kenyans.

Mercy Akuot fled South Sudan in 2008 when she was 15 years. Her family had married her off to an elderly man behind her back, something she was dead set against. She fled to Uganda, but the man pursued and tracked her down in Kampala.

"In his hands, I suffered physical violence, rape and unlawful detention, but I vowed never to become his wife," she narrates.

For a poor, lonely girl in a foreign land, she says, there was little she could do to rescue herself from this abuse. When the opportunity to escape presented itself, Akuot crossed over to Kenya in 2015 and was admitted as an immigrant at Kakuma Refugee Camp.

"This has become my home since," she simply says.

"I am a young woman with dreams, but so many hindrances stand in my way. I wish to become a women's advocate, to fight for the rights of other women," she says.

Owing to the turbulence that characterised her teenage phase, Akuot did not have the opportunity to learn beyond Form Six (Kenya's equivalent of Form Four).

"I won a scholarship to study a degree in public relations, but as a refugee, I could not directly enrol at the university, having not studied in Kenya. I was, therefore, asked to study for a diploma first," she says, adding that she is unable to raise the money required.

Akuot is currently volunteering with Danish Refugee Council (DRC) in their women empowerment programme in the camp.

"This engagement has given me the necessary vitality to fight for the rights of women in communities where women's opinions do not matter."

She emphasises, "If a man has the right to education, opportunities and the right to make critical decisions touching on his personal life, so does a women." Akuot has not been in touch with her family for 10 years.



She says, "I long to see them, but I fear returning home. I feel safer at the camp."

"I need bigger opportunities to explore. If Kenya offers me that (and it has so far) I'd be glad to stay on as long as it takes," she says.

Omot Oman, 23, is an Ethiopian refugee who has lived at the Dadaab refugee complex since 2004. He was nine years when his family moved to Kenya following clan clashes in Ethiopia.

He attended primary and secondary school in Dadaab, Garissa County. According to him, schools within the camp are understaffed and lack essential learning equipment and materials.

Omot says, "One book is shared by more than five learners. Most teachers are volunteers. Some of them are not trained to teach, which affects the quality of their teaching."

"There is also no electricity in the camp. Students can therefore only read during daytime. When I joined high school, at night, I read using a candle for four years," he reflects.

The UNHCR, he says, gives them a monthly voucher for buying food, in a system known as "Bamba Chakula".

He explains, "Every family is issued with a SIM card that acts as a bank account. UNHCR sends Sh1, 400 per person for buying food to the line, but the money is too little considering that most refugees do not have other sources of income."

"Other times the money gets to us late, which forces families to borrow or starve," Omot says.

The escalation of terror activities by Al Shabaab has also tilted the balance of life in the Dadaab complex, according to him.

He says, "The fighters target the camp for attacks or radicalisation of those living here. It has never been so scary living here. You never know what might happen tomorrow."

These setbacks, however, have not deterred the youngster from following his heart.

"I am an interpreter with UNHCR, which earns me some allowance. It's a job I love. I also compose poems whenever I am free," he says.

While he sees Kenya as generally peaceful, he lives in dread of unrest.

"I was in Kenya during the 2007/2008 ethnic violence. I was disturbed that my host country was descending into war just like my own country. Peace in Kenya means I can continue living here without worrying about my security."

Jean Claude is a Congolese asylum seeker based at Kakuma Refugee camp in Turkana County. Jean's parents sent him to Kenya in 2009 due to political mayhem in his home town, Lubumbashi Province in the Democratic Republic of Congo. He was 15.

"Some of my relatives wanted me to join the rebels fighting in our region. My mother was opposed to it though, fearing I might die in war, so she sent me here through a friend. I haven't been in touch with my family since," he narrates.

Most of his age mates who remained in Congo, he says, were forcefully recruited to guerrilla warfare. While Jean is glad this spared him from taking part in armed conflict, he finds fault in his family's decision to send him here.

"My family dumped me in Kenya. I didn't know anyone here. How I was going to fare here was entirely upon me," he recollects.

"My initial days in Kenya were a nightmare. I didn't know Kiswahili or English. I only spoke French and Kilingala. The little Congolese version of Kiswahili that I knew didn't help me either."

Jean was moved from a refugee centre in Kangemi where he had stayed for a month and taken to Kakuma.

"It was very hostile at the camp. I worked as a barber for one year and as a boda boda rider for two years to make ends meet. I could not proceed with my education beyond Form One," he says.

Luckily for him, FilmAid (a non-profit humanitarian organisation that uses film to educate and entertain refugees around the world) offered him a scholarship to study journalism and film-making in 2016.

"I have participated in the production of two documentaries so far, Lovers no Boundaries and Shape Up for FilmAid. I have also been part of a music video project with Wyre," says Jean, who describes himself as a top-notch videographer and can now speak and write fluent English and Kiswahili.

"I am forgetting French and Kilingala since I hardly ever use them anymore. I am more Kenyan than Congolese, and finally, after a long time, I am happy to be here," he says.

The one thing he would like to see change at the camp is ease of movement.

"You cannot just leave the camp. When you want to, you must obtain a permit and give a valid reason explaining why and where you wish to go. The permit takes a week to process. As a young person craving freedom, I feel inhibited to a great extent," he says.

Of the instability that tends to besiege the country during the election period, he remarks,

"What happened in my country taught me that anyone's status can change anytime. People who are peacefully living in their country should therefore value this stability."

Jean intends to move beyond acting to become a film director and establish his own media production company, "to make enough money to change my life and the lives of others like me".

"I have a Kenyan girlfriend who I hope to settle down with someday. Ultimately, I want to trace my family back in DRC," he says.

Abdi Halane, 29, has been a refugee in Kenya for the last 19 years. The chaos that engulfed Somalia in the 1990s forced Halane and her family to flee Mogadishu in 1999. They came to Kenya through Ethiopia.

"There were bombings all over the city. Getting essential commodities was difficult, which made life very harsh. I was 10 when my family decided to leave Somalia."

Ethiopia would not be a peaceful host to the thousands of families fleeing the country since it was also going through political turmoil at the time.

"We had to seek refugee elsewhere, and Kenya was an easy choice for us. Along the way, we had to contend with starvation, lack of clean water, and lack of medical services. I survived measles and fever to get to Nairobi," she recalls.

She and other refugees were hosted at various mosques in Nairobi before UNHCR ferried them to Kakuma Refugee camp. Halane says that at some point during the journey here, she was separated from some of her relatives, who she has never seen since. In 2005, she was married off. She was only 14 years. In 2007, her husband died in a road accident. At the time, she had two girls, now 13 and 10 years.

"Living without a male figure in the camp is difficult. I have been mocked and humiliated just because I don't have a husband," she says.

Furthermore, raising two girls with good morals in a camp setting where sexual immorality thrives has been a daunting task, she says.

"As a mother, I can't afford to fail my daughters, whatever the situation is. That's what motherhood is about: remaining steadfast for your children."

Refugees registered by the United Nations High Commission for Refugees (UNHCR) are entitled to free medical care and education for their children. But as Halane explains, the provisions are not always enough.

"If you need specialised medical care such as surgery, for instance, you must pay from your own pocket. Such services are only available outside the camp. Besides, most refugees don't have medical insurance," she laments.

To supplement the provisions given by UNHCR, Halane runs a photo studio within the camp.

"I mainly take portrait photos for individuals and families. Sometimes NGOs that operate in the camp invite me to take photos and film their events. The little money I get is what keeps me going," she says, adding that photography also helps her to keep boredom at bay since her daughters are in boarding school.

She is also a community mobiliser with Windle International Kenya, an NGO that promotes and coordinates education and training programmes for refugees and needy Kenyans.

"We teach various refugee groups about the importance of education and encourage them to abandon rites such as female circumcision and early marriage for girls, which are practised widely in my Somali community," Halane says.

Does she dream of ever returning to Somalia?

"Going back to one's country is the dream of every refugee. So, yes. But only when the situation there is calm," she says.

Lilian Ochan's family fled the Gambella Massacre in Ethiopia in 2003 and settled in South Sudan. For the last 15 years, her family have been refugees in Kenya and South Sudan.

The 2010 independence referendum in Sudan, however, made matters worse for refugees. As native tribes in the southern part of the country were gearing for independence, refugees, were isolated and accused of various crimes.

Ochan says,

"Some Sudanese communities, who didn't want us in their country accused us of scheming to occupy their land. It was a fearful period."

These events and the fear of a bloody secession pushed the refugees out of South Sudan to Kenya.

"My then 12-year-old sister and I travelled from Juba to Nairobi by ourselves, leaving our parents behind. We later joined one of our aunts at Dadaab," she says.

Life in the camp, she recalls, was a struggle for survival.

"My aunt was in a boarding school away from the camp. We were, therefore, on our own most of the time," she narrates,

As a 14-year-old who knew very little at the time, Ochan was compelled to play the role of mother to her younger sister.

""As teenagers, it was not safe for us to be on our own at the camp without a guardian. Thankfully, with the support of the UNHCR, we joined a boarding school in Juja, in the outskirts of Nairobi city."

But school life presented other challenges.

"We could hardly interact in English. We only spoke Amharic. We were also teased for being older than the rest of the students. I felt so humiliated, I wanted to quit. The only thing that kept me there was that life in the camp was not any better."

When the government of Kenya issued a notice to close down the Dadaab Complex in 2017, UNHCR relocated Ochan and other non-Somali refugees to Kalobeyei Settlement in Turkana County.

"The move was very disruptive. We had to start life afresh. We have since settled down in the new camp though," she says.

Police in Kenya, she says, are their main threat.

"The alien ID card issued by the government of Kenya bears all the features of an ordinary Kenyan ID. The only difference is that it identifies you as a refugee," she says.

The police, she says, extort money from them, insisting that the alien card is only valid within the camp. This is not all, some banks, she regrets, do not allow refugees to operate accounts, which is inconveniencing.

"I therefore have to carry cash, which is risky. Alternatively, I have to operate mobile money, which encourages wastage especially since I love to buy new clothes and accessories," she smiles, and adds,

In 2016, Ochan decided to try her hand at modelling. But this too was not easy.

"One modelling agency dismissed me just because I was a refugee. They argued that I could not be relied on to commit to the job. This really broke my heart," she narrates.

She was encouraged a bit though, when she was crowned Miss World Refugee at Kakuma in 2017.

"I have accepted my status as a refugee. I have refused to allow the tag of refugee to define who I want to become. I want to pursue runaway and commercial modelling, and use my story to inspire other women," she says in a determined tone.

It is a crisis

Statistics from the United Nation High Commission for Refugee (UNHCR) show that 6.4 per cent of Kenya's population (488, 415 people) was composed of refugees as of January 2018.

Fifty-eight per cent of refugees in Kenya (or 283, 281 people) are from Somalia.

While the government has initiated a voluntary repatriation programme, specifically by shutting down the Dadaab complex, most of them choose to remain In Kenya.

The fragile political, economic and security situation in their countries deters them from returning. Youths who were born to refugee families and raised in the country consider Kenya their country, and opt to stay put to establish their lives from here.

According to UNHCR, there are over 22.5 million refugees and 10 million stateless people in the world. South Sudan, Syria and Afghanistan contribute 55 per cent of the world's total refugee population.