Wednesday January 17, 2018 - 13:59:53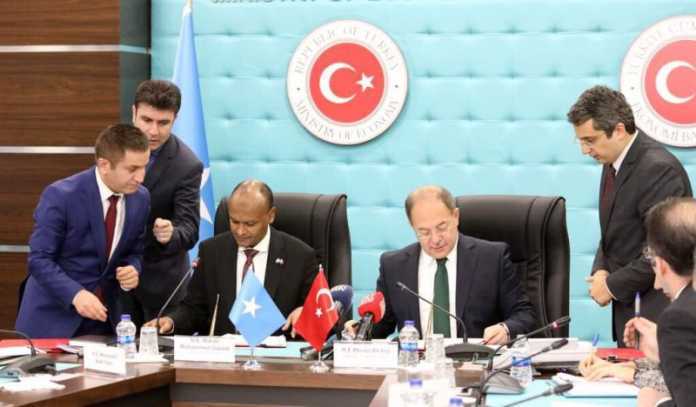 Somalia and Turkey Sign Trade Agreements and Form Joint Economic Commissio
The Federal Government of Somalia and Turkey signed a number of trade agreements that will further cement the already thriving economic cooperation between the two countries
In a meeting held in Anakara, the Somali delegation led by Somali Deputy Prime Minister Mahdi Mohammed Gulaid and his Turkish counterpart Recep Akdağ, signed a cooperation protocol during the inaugural meeting of a Joint Economic Commission (JEC) last Friday.
"The goal of the JEC is to translate the number of memorandums of understanding signed between the two countries into reality with our immediate priority being to open Turkish markets for Somali products such as dry lemon, sesame and banana," Mr. Gulaid said.
"The agreements will also open Somali exports to Central Asian markets through the Turkish gateway as well as to contribute to the country's economic recovery and to generate employment for the Somali youth," he added, noting that revitalizing the country's economy was one of the top priorities of the Somali government.
Somalia and Turkey previously signed trade memorandums in areas such as energy, mines, electricity, higher education, agriculture, and fisheries.
He said Somalia was open to foreign investment and was ready to boost trade cooperation with all friendly countries.
Earlier, talking to Turkish Deputy Prime Minister Recep Akdağ said: "Turkey's investment in Somalia stands at over $100 million," predicting that the bilateral trade volume could rise to $200 million from about $120 million in 2016.
The JEC led by Mr. Gulaid on the Somali side and Mr. Akdağ on the Turkish side will have regular meetings to follow up the implementation of the agreements and to bolster the strategic cooperation in the years to come.
"Apart from the historical relations between our countries, Turkey has become a very important ally for the Somali people and we are committed to consolidate these relations for the mutual benefit of our two countries," Mr. Gulaid said.
The trade cooperation will also open the gates for the Somali business community to have business-to-business deals with their Turkish counterparts and to participate in Turkish trade fairs.
Mr. Gulaid expressed his gratitude to his Turkish counterpart and his team for the brotherly hospitality accorded the Somali delegation.
In addition to Mr. Gulaid, the Somali delegation included the Minister of Fisheries, Abdirahman Mohamed Abdi Hashi, the Minister of Commerce, Mohamed Abdi Hayer Maareye, as well as senior officials and experts from a number of other ministries.